Recruit + Retain Employees
ProShop helps you to recruit and retain employees. And more importantly, it helps you recruit and retain the right kind of employees. Ones that care about professionalism, improvement, and the world class company you're trying to build. Employees want to work in an environment that allows them to do their best every day, be efficient and productive. They don't want to search for paper travelers and re-solve previously solved problems. ProShop helps to remove daily friction for employees, and enables them to do their best – every day. Happy employees are productive employees, and they'll stick with you and help your shop grow!
I came to work for EastBranch Because of ProShop"
-Brandon, East Branch Engineering & Manufacturing
Testimonials
RX INDUSTRIES



"When I interviewed Justin, it was at a time when I didn't even own the building. But I painted a picture of what RX Industries would look like. At that time, I had 0.00 experience using ProShop, but envisioned ProShop as THE interface with RXI, both internally and externally. RXI is not Tom Rougeux. RXI is an assembled manufacturing experience of first class components consisting of best practices in management, human resources, equipment, customer relationships, and business systems. ProShop sits at the foundation of that structure.

As I unfolded the vision for our company to Justin, he expressed an enthusiasm for using ProShop before he even knew what it was. As I repeated what I had learned from my initial interviews and investigation into ProShop to Justin, we both became even more excited at the possibilities of the experience this software would produce. That experience was imagined in terms of what it would do for us – just two guys without any administration assistance; no one to order tools, complete paperwork, print job travelers, order materials, invoice, keep track of the schedule, organize shipping and outside processing services… it was just going to be us! Justin described ProShop as our "Third Man" and his belief and understanding of the picture I painted was truly contingent on the overall vision of what RXI was going to be.

In all honesty, I am not 100% sure that Justin fully believed all that I was telling him during the interview process. Afterall, I was only describing what I had been able to learn prior to purchasing. Having been through a few months of training, both Justin and I have been overwhelmed by the "But wait! There's more!" we experience everytime we dive a bit deeper into the experience. I'm sure not every shop wants to create an internal and external user experience that results in JOY, but RX Industries was created specifically for that. We are simply using our talents as a CNC shop as the vehicle for that goal. ProShop is the fuel in the tank that keeps both Justin and I excited about what we do and why we're here. It impresses our customers and the result is a confident customer every time they interface with us as a result."

-Tom R. President, RX Indsutries



G & S MACHINE & TOOL

"When hiring for new positions within our organization, we've had applicants indicate that our usage of ProShop is one of the reasons they want to join our team"

-David V. C.E.T, G&S Machine and Tool



EAST BRANCH ENGINEERING & MANUFACTURING


"When we interviewed Josh, he was working at a shop that was attempting to get AS9100 certified. For various reasons the other company he was at lost some people and the AS certification fell to Josh. The system they were running was…not great (side note – I think it was E2). The consultant basically told him and the company that there was absolutely no way to get certified with the current system. Josh faced a huge mountain that kept growing without his management's help and commitment. It's the same story I'm sure you've heard over and over – management and employees fight with the system as a whole and see it not as a tool but "something we have to suffer through". It was a based paper system that didn't work as illustrated by the weeks of work prior to audits. He was looking for a change.

When we interviewed Josh, I walked him through ProShop for a few hours. Our company had similar goals to his then current employer, although we were going for ISO registration and not AS9100. Showing the features and benefits to ProShop during an interview shows the potential hire that we are committed to advancing the company. Showing training tracks and a clear org chart can show an employee that the next steps in their career might be. We were able to shop Josh not only our current system, but where we wanted to go with it. Within a few minutes of the ProShop demo during the interview Josh was very actively engaged and asking questions. He could see the benefits of the ProShop system and how the system was there not as a hindrance, but as a tool to advance the goals of the company. The general feeling was "I don't have to fight the system anymore". I think it was at that initial meeting that we discussed the idea of a "zero prep audit". We have the goal and understanding that a properly functioning system would not require hours and hours of preparation for an audit. A system that was easy to use day in and day out would actually be used and that's the key to "surviving" ISO. For an employee working at a company with an older, or arcane, or paper based system seeing ProShop is like a breath of fresh air; people can stop fighting with the system and "do the paperwork" and get back to the thing they love doing. ProShop offered that to Josh and we hired him soon after his interview. I can safely say that because of the demo, we could engage with Josh a bit more freely and start to see Josh's understanding of quality systems in general. You can learn a lot about someone by the questions they ask during an interview. The demo turned what could have been a very static interview into a practical interview."

-Chris G. VP, East Branch Engineering & Manufacturing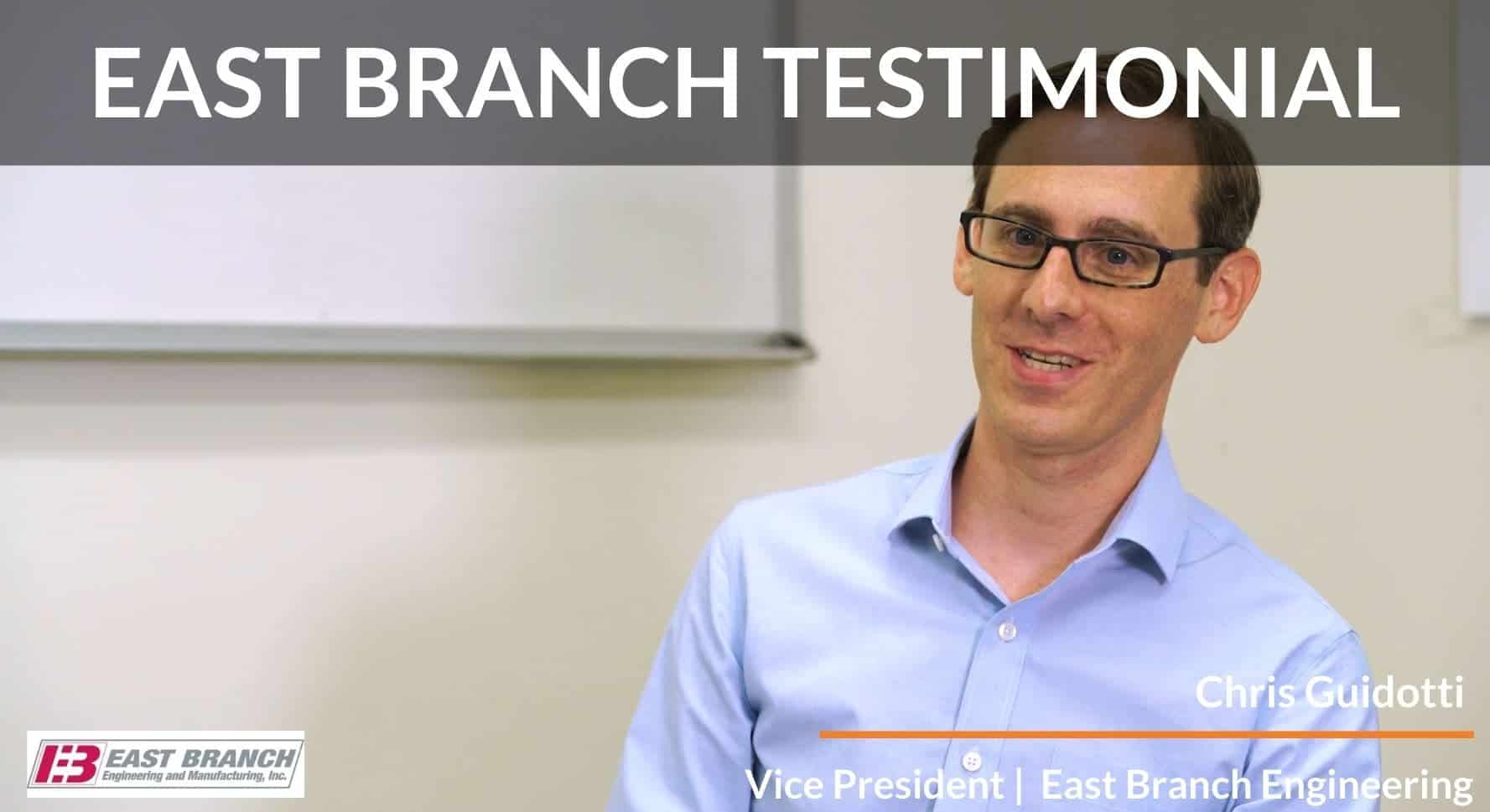 Related Case Study
EAST BRANCH ENGINEERING & MANUFACTURING
Within a year of implementing ProShop, East Branch saw an increase in revenue, reduction in expediting fees and reduction in shipping fees. They also were able to increase their on-time percentage from 70% to 100%. They now see ProShop as being the backbone of their company.
Book a Discovery Call
We'd love to talk with you about your company's needs and see if ProShop manufacturing ERP software is a good fit for your shop. We ran our own CNC machine shop for 17 years so we know a few things about paperless shop floor management, machine shop scheduling, estimating, paperless QMS software, and lots more. Just block off your schedule and prepare to get excited.
PLEASE SELECT YOUR LOCATION FROM THE LIST BELOW TO SCHEDULE A DISCOVERY CALL