E2
CASE STUDIES
Coastal Machine & Supply Inc is a mid-size machine shop in Louisiana that caters to the oil & gas and commercial markets. With about 20 CNC machines in their 36,000 sq/ft facility, it's a busy place, delivering both quick turn projects and production machining. With both ISO 9001 and API Q1 certifications, they have built a reputation for quality and reliability over their 16 year history.
When Coastal was 2 years old, they already saw the need for an ERP system to help them grow and scale. They chose E2 as it was a widely used system that seemed to be suited to their business. As they grew, it helped them organize their business and they used it for estimating through invoicing. "We made it work for us," says Kody Guitry, Operations Manager of Coastal. But after several years it really got difficult to manage things and they realized they were spending too much time managing the system and developing workarounds to run their business. One area that was particularly difficult was the quality modules. "The quality module was very inefficient.," says Kody…..
Read More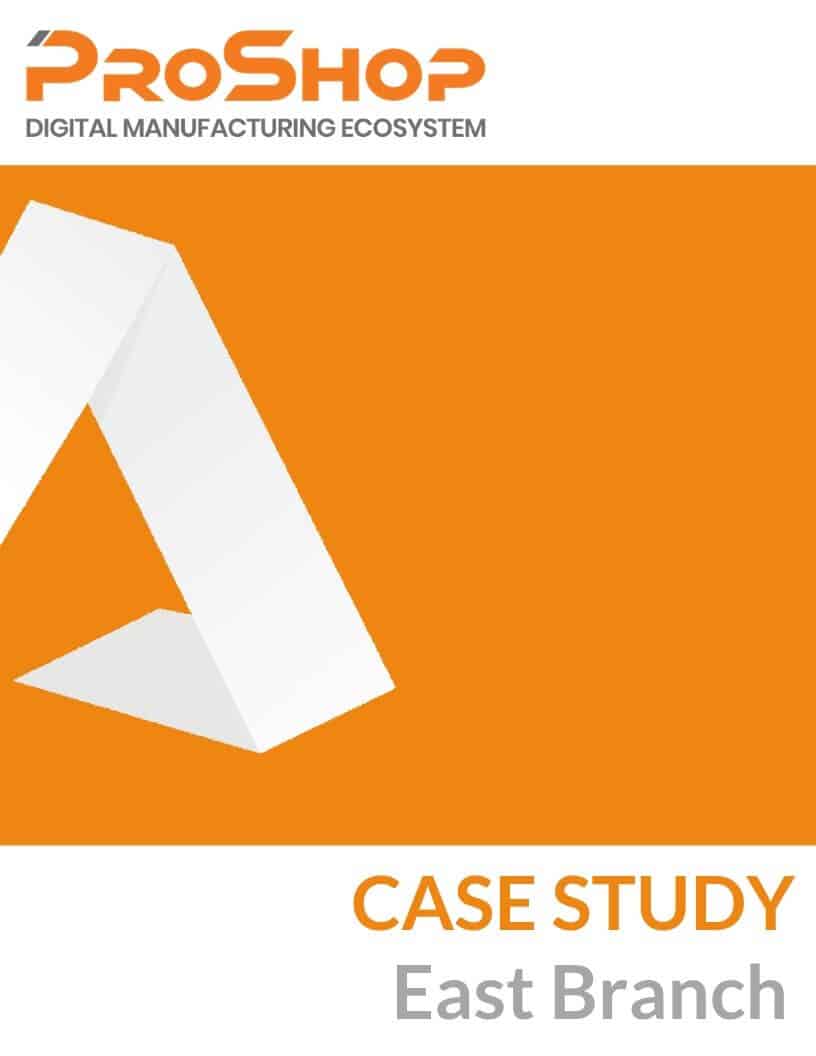 East Branch Engineering and Manufacturing in New Milford, CT was founded by Paul Guidotti in 1989. His son, Chris, joined him as the VP of Manufacturing in 2003 following his graduation from engineering school. With ~20 machines and 16 staff, East Branch specializes in high-precision, multi-axis milling and turning and has built a reputation for providing outstanding service and quality parts to a wide variety of industries. In April of 2017, East Branch Engineering and Manufacturing sent in an impassioned plea in an online inquiry form on our website:

"We're trying to pull in larger customers, but we feel we are constantly hitting our heads against our ERP to get things done. There's a general feeling of a "square peg round hole" with E2. You can get a square peg to fit in a round hole if you hammer on it enough. We're starting to realize that 'hammering' is getting expensive and hindering growth."

East Branch came to ProShop as an experienced ERP user. Early on they purchased JobBOSS and used it for several years before they moved on to E2 by Shoptech. E2 promised an easier to use interface and better integrated functionality. Chris became an adept E2 user and quickly became one of the most active members of the E2 Community Forum. With time, growth and increasing industry demands, Chris's participation with info and training via the forum changed to requests for new features and bug fixes.
Read More
Diversified Manufacturing Technologies (DMT) is a modern and technology driven machine shop in the Pacific Northwest. Owners TJ Quale and Seth Tromburg bought the shop from the previous owner in 2010. The previous owner had been running a dirty and disorganized shop that was barely breaking even and was using an old paper based legacy ERP system to run the shop. Things weren't organized and were not going in a positive direction. Orders were often late, had cost overruns and quality problems and employees were quitting in droves. Seeing an opportunity, both Seth and TJ who worked as machinist/programmers for the shop, starting talking about buying the shop. They came to an arrangement with the owner and bought the shop, renamed it and focused on the most profitable customers. They kept only the best machines and let the previous owner sell off the older equipment. With this renewed focus on better controls, customer service and being selective about bringing in the right kind of work, things started getting better. But TJ and Seth didn't like the E2 ERP system software and felt like it was a weak link in the company. Their biggest complaints about the software were:

No tooling catalog to organize all their cutting tools
Very cumbersome inventory system…….
Read More
CUSTOMER
QUOTES
East Branch improved their profitability using ProShop

"ProShop has become the backbone of our company and has allowed us to make significant improvements in throughput, company organization, cost savings, and overall company profitability. It has helped in so many ways that we never even considered before. It's evident that ProShop was designed and built by people who ran the same type of business we do. They just get it, and it has made a huge difference to us as a small family run machine shop. We're very excited about the future of East Branch."

Chris Guidotti
Eastbranch Engineering
Irongate can't imagine life without ProShop

"We were using E2 and it was our first ERP system, and it was a pretty good fit for when we first started. We found after about 5-6 years we started really bumping our head on the ceiling with the capabilities and we were really starting to outgrow it. A couple years later we were more than just bumping our heads we were really jammed up against the ceiling and it was really starting to hold us back. We've had ProShop for just about a year now and we've seen efficiency increases through every aspect of the shop and we can't imagine living without it. Making that transition was much simpler than we thought it would be….Once people saw how great it was, it was kind of like a freight train, we couldn't even stop the progress" "

Justin Erikson
Irongate Machine
Campbell dropped their lead time using ProShop

We had planned to on-board ProShop in the 4th Quarter and launch in 2019. A sudden in-flux of work was looking unmanageable. In March of 2018, I requested that we move up our timeline. We launched July 2, 2018. Everyone's workload immediately thinned out. They were sharing information and tips. After the first two months we had enough data to see that our KPIs were trending in a very positive direction. Our lead times dropped from 6-8 weeks down to 4 weeks ARO. We regularly pulled off 2 week lead times. ProShop was our secret sauce. ProShop was everything they promised it would be and more. It's an extremely deep system that gives you customizability across the board."

JB
Campbell Engineering
Dynamic Fabrication changed their company culture using ProShop

"So far all I can say is that you guys have put together a very very very good package. I have been under extreme duress for picking this package, by my employees and investor. We are now able to see the light at the end of the tunnel. And most importantly, I have been able to show our customers from Raytheon, Aerojet RocketDyne, Orbital ATK, SpaceX, Northrop Grumman, Lockheed Martin the software package called ProShop we are running as they have come by to audit us over the last two months. They have all walked away impressed and we are still at the early stages. I have even shown some potential clients of ProShop as well and they too have walked away impressed!!! In order to be the best you have to team up with the best. Thank you!"

Andrew Crook
Dynamic Fabrication
3D Industries drives improvement using ProShop

"I can't explain how sincere I am with this. ProShop is incredible! As a machine shop owner, there were always times that I wanted to quit and give up. The solution to how to make my business run more smoothly, without a million fires seemed elusive for years. I was working too many hours under too much stress. And I've seen the same thing with dozens of other shop owners I know well. This is systemic in the machine shop world. I've seen and tried lots of other ERP systems, and none of them help. They probably make it worse. ProShop has helped us change the whole culture of the company. People are now thinking ahead, thinking more strategically, making sure their work is done right the first time. Thank you for building ProShop! It's made a huge difference for us and I'll be forever grateful."

Matt Gawlik
3D Industries
"Best Investment For Company"

"Our On-time delivery has increased 30-40% believe it or not. Employees are actually INVOLVED with the QMS because it's all there. We actually have machinists filling out NCR's when the problem happens. And filling out detailed reports with pictures. We find out about the problem instantaneous. There are constant areas in the shop where we can't believe how we were operating before. The integration between all the modules from Estimating, to Orders, to Preventative Maintenance, to the Quality module is so deep it's mind blowing! ProShop has been a total game changer for us!"

Kody G.
Coastal Machine & Supply
Schedule A Demo